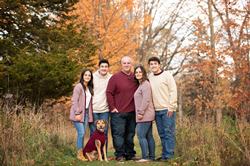 The local family continue to serve the community as the owner of Pet Wants Clarkston
High quality nutrition is just as important for pets as it is for humans … We see the difference Pet Wants makes for our dog and we look forward to being a resource for other pet families. local. – Areej Alnaraie
CLARKSTON, Michigan (PRWEB)
November 11, 2021
When Areej and Joe Alnaraie started looking for solutions to their dog's health problems, they found they weren't alone. Other families faced the same challenges… and many of them found relief for their pets by switching to Pet Wants food.
"We adopted Max two and a half years ago and he has always had food sensitivities. When we tried Pet Wants, not only did they improve, they also refused to eat their old food. Since there was no Pet Wants store in our community, we decided to start one on our own, "Areej said.
Specially designed private label pet food formulas by Pet Wants are made in small batches with fresh, natural ingredients fortified with vitamins and minerals for a complete, balanced diet in every bowl, all made in the USA . Pet Wants Clarkston offers several mixtures of dog and cat food formulas, as well as healing balms, calming balms, anti-itch sprays, paw wax and more. As a mobile business, the Alnaraies provide free, local and personal delivery to Clarkston, Lake Orion, Oxford, Ortonville, Brandon Township, Independence Township, Rochester, Rochester Hills, Waterford and Springfield Township. They also serve the Auburn Hills, Bloomfield, Grant Blanc and Holly areas.
"High quality food is just as important for pets as it is for humans. Our food is not only designed to contain exactly the nutrients your pet needs, it's also slowly cooked in small batches and delivered fresh. We see the difference Pet Wants is making for our dog and look forward to being a resource for other local pet families, "said Areej.
Pet Wants has a money back guarantee on the freshness and quality of the food, the company sources only the best salmon, chicken, lamb, brown rice and other ingredients available. There are no added sugar, no fillers, and no animal by-products and Pet Wants never uses corn, wheat, soy or coloring, making the food ideal for pets with allergies.
In addition to their furry baby, Areej and Joe have three children – their oldest, Melanie, attends Oakland University and graduates in the fall. She plays lacrosse and trains young girls in lacrosse. Patrick, their second child, is an Eagle Scout and is enrolled in second year of college. Their youngest, Sean, is in second grade at Clarkston High School. He plays lacrosse. The whole family volunteers and has worked with Goodfellas, Art in the Village, Sheriff Re-cycle Program for Oakland County, Cub Scouts and Boy Scouts, Friends of Clarkston Lacrosse, Oakland County Sportsman Club and more. Areej and Joe have been married for 25 years and they moved to Clarkston in 1999.
"In addition to working with pets and providing healthy nutritional options for families, we are also excited to play a new role here in the community. We have been extremely involved over the years and now will have the opportunity to continue to do so as small business owners, "said Areej.
To learn more about Pet Wants Clarkston, call 248-969-0419, email AAlnaraie@PetWants.com or visit http://www.PetWants.com/Clarkston.

Share the article on social media or by email: