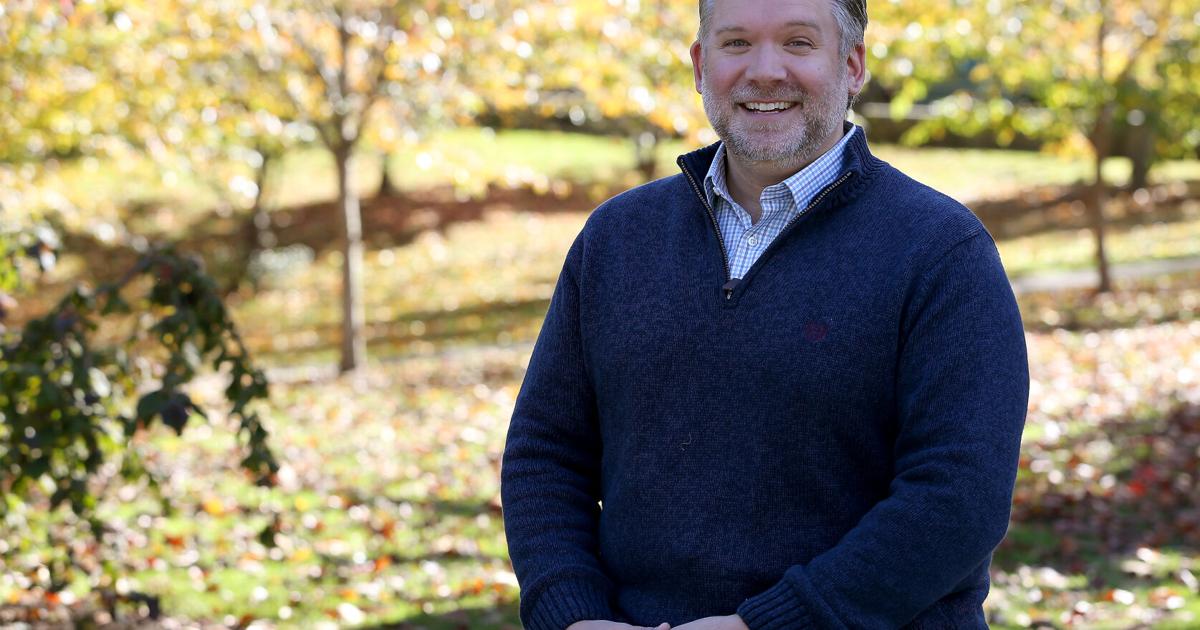 In the Chair with Brian Edward Leach | In the chair
[ad_1]
Last name: Brian Edward Leach
AGE: 41.
OCCUPATION: General Manager, Colonial Theater.
RESIDENCE: Norwich.
BORN, RAISED AND GROWN IN: Born in Pittsburgh, raised all over the US (my dad was in the military).
RIGHT NOW, I AM IN THE MIDDLE OF: Writing a play, fixing my new house, and writing a grant for Colonial Theater's exciting summer 2023 season.
MY PROUDEST ACHIEVEMENT: Bring Quentin Crisp's latest posthumously published autobiography, "The Last Word", to the stage in 2020.
TOP ON MY BUCKET LIST: To play Salieri in a staging of "Amadeus".
I ALWAYS TAKE: My cellphone.
WHAT I WANTED TO BE WHEN I GROW UP: Actor/writer.
MY HEROES ARE: Peter Brook, Dalton Trumbo, Werner Herzog, Billy Wilder, Ernest Shackleton, Rebecca Covert.
FAVORITE AUTHORS: Quentin Crisp, David Sedaris, Henry David Thoreau, Shakespeare, Thornton Wilder.
BOOKS ON MY NIGHT TABLE: "The autobiography of Franco Zeffirelli", "The complete plays of Charles Ludlam", "The letters of Noel Coward".
THE THREE BEST SONGS ON MY PLAYLIST: "Bittersweet Symphony" (The Verve), "The Great Gig in the Sky" (Pink Floyd) and "Der Hölle Rache" (Mozart).
THE LAST THREE SONGS I ASKED ALEXA/PANDORA/SPOTIFY TO PLAY: "Diamond Veins" (French 79), "Delta Dawn" (Helen Reddy), "Helium" (Sizzy Rocket).
THREE ALL-TIME FAVORITE FILMS: "All About Eve", "Tata Mame", "Sunset Boulevard".
FAVORITE TV SHOWS: "Batman: The Animated Series", "Absolutely Fabulous", "Mr. Bean".
FAVORITE RADIO STATION/SHOWS/PODCAST: NPR.
TOP COMFORT FOOD: Pizza. But really good pizzas. Tell me who has the best in this area, I'm new here.
SOCIAL MEDIA SITES I MAINLY USE: Facebook.
FEATURES I ADMIRE THE MOST: Sense of humor, good communication, good use of language, sense of adventure, kindness and empathy.
CRAZY ANIMAL: Long line at the can recycling station, traffic at a standstill, waiters singing "happy birthday" to me.
FAVORITE QUOTE: "Love the art in yourself, and not yourself in the art." —Constantin Stanislavsky
MY FAVORITE ON OUR LITTLE CORNER OF THE WORLD: The people, the culture and the ocean.
IMPOSSIBLE TO LIVE WITHOUT: Creative energy.
LITTLE KNOWN FACT ABOUT ME: I once worked briefly in the alpaca industry and I know more about them than I ever imagined. (In case you didn't know, as I once was, an alpaca is kind of like a llama but smaller and with thicker fleece.)
THE BEST ADVICE I EVER RECEIVED: When contemplating the fate of a relationship, be it romantic, platonic, cooperative or otherwise, simply and honestly ask yourself, "Am I nurtured or am I drained?" »
THE ADVICE I WOULD LIKE TO GIVE: Live as best you can while you can.
IF I RULE THE WORLD I WOULD BE: Make peace profitable.
IF I WIN THE LOTTERY, THE FIRST THING I DO IS: Hire an excellent financial advisor/accountant.
I DRIVE TO: 2017 Jeep Renegade black
I WANT TO DRIVE A: Newer version of the car I am currently driving.
ALWAYS IN MY FRIDGE: Flavored seltzer water.
IF I COULD INVITE SOMEONE SPECIAL TO JOIN ME FOR DINNER AND CONVERSATION, I WOULD INVITE: Expensive.
— Interview arranged and edited by Nancy Burns-Fusaro
[ad_2]
Source link