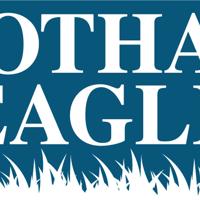 Rescued dog found with its owner after more than a month | State
GADSDEN, Ala. (AP) – Get ready to wag your tail. The dog with the jug stuck to its head, rescued last Sunday when a group of dedicated volunteers searched Lookout Mountain, is now at home with its owner.
The dog, who Chris Molds called Buckethead, is actually Fisher, and he had been missing from his Hokes Bluff home since Dec. 20.
The dog caught the eye of Brittany Rains, a letter carrier, as she traveled her route. She tried to help him, but couldn't approach him. She took a photo and as it was shared on social media, other animal lovers started looking for the dog.
He looked skinny in the photo and they had no way of knowing how long his head had been stuck in the container preventing him from getting food or water.
Molds (who is active in animal rescue efforts), Jolene Fagin, Ashley Smith, Dustin Frazier and others dug in – organizing a Sunday morning effort that brought out around 35 people.
"Ashley Hill Smith and Dustin Frazier were the keys to his capture," Molds said in a Facebook post. "Ashley was able to attack Fisher in the woods and remove the container from his head. At this point, a perimeter was set up to contain him.
However, Fisher escaped before the perimeter was set and walked a few more blocks — going through a "very high traffic area," Molds said — but he soon got a call from Gina Hollingsworth telling him that the dog had been caught.