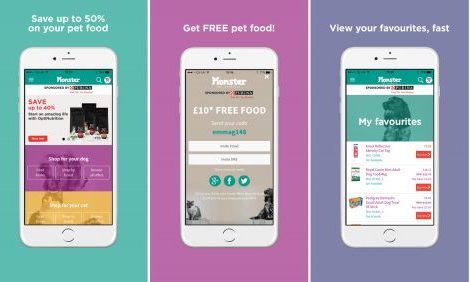 UK pet food delivery app launched
A Leeds-based company has launched a pet food delivery app.
Sponsored by (Nestlé) Purina, the Monster Pet Supplies – Pet Food Delivery App aims to give pet owners a super fast and hassle free shopping experience to order their pet's favorites with just the push of a button.
Encouraging adoption of the app has been key to Monster Pet Supplies' launch strategy.
Owners are offered an initial £ 5 discount on the first store, which is then increased to an additional £ 10 once the app is shared.
£ 5 as the referrer gets paid once a friend has left who also gets £ 5. Without limitation of the number of "Shares" or vouchers that can be made, consumers are encouraged to share widely.
Jonny Gould, Managing Director of Monster Pet Supplies, said: "At Monster Pet Supplies we are constantly looking for ways to advance technology to improve the shopping experience for pet owners in the UK.
"We know that convenience and speed of delivery are essential. Allowing consumers to access their favorite pet foods with the push of a button addresses these needs simply and quickly, with additional features such as scheduling orders for repeat delivery, further enhancing the consumer experience.
For more information visit www.monsterpetsupplies.co.uk
This article was last modified on July 29, 2016.